What better way to use a social media or even a personal blog or what not than to follow along on these hops. Here are some more that came across my way.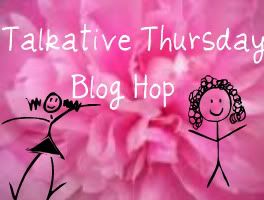 Talkative Thursday's is hosted by Mommy of One and co hosted by Lucas Journey with SPD.
Announcement:
Link up every Thursday - August 12,19,26 & Sep 1 - and be entered into a drawing to win your button on both our blogs for 1 month.
We will also be starting a "Blog Spotlight". Each week, starting the 19, we will randomly select a blog, and place that blog in the #3 spot on the Linky List.
RULES:
Follow the blog in the #1 and #2 spot
Grab the Talkative Thursday's button, and make a post on your blog, with the button so new follower's know where to submit comments.
Submit your URL to the linky below, please have it go to your new blog post with the button.
Follow as many blog's as you want!!
>
To participate in Keepin' Company Thursdays, please follow these guidelines:
Please follow these guidelines:
* Create a Keepin' Company Thursday post. Please include the Keepin' Company Button in your post.
* Follow the first two blogs, which are the hostesses: Heck of a Bunch and Traci66.
* Follow any of the other blogs you choose to and let them know you found them via Keepin' Company Thursday.
* If you get a follow via Keepin' Company Thursday please follow them back.
* Add your blog name and the URL to your Keepin' Company Post to the link below. There is no need to add your link twice. You can do so either on my blog or at Traci66. It will show up at both regardless.
* You can also grab the blog hop code to add to your post if you want the thumbnails to appear in your post.
* If you add the Keepin' Company button to your sidebar and leave either of the hosteses, Heck of a Bunch or Traci66, a comment letting us know where to find it we will randomly draw a blog to be in the #3 spot next week. This week's coveted #3 spot goes to Lisa at Raising Future Leaders. She is a stay-at-home mom of six children. Her blog has info on parenting, homeschooling, and homebirth as well as a plethora of other informative posts.