This is the first time I am doing this. I thought I'd play along. They have a guest hostess and this week it is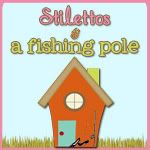 Here are the questions~!
Who was your high school sweetheart?
I actually had three. They were short ones. My longest one was about three months or so. I actually am in touch with two of the three even now thanks to Facebook. Nice to know that one can do that with past relationships such as high school.
What's your favorite vegetable to eat?
I have a hard time with vegetables as they are not my favorite. But I guess I like the starches that being corn and potato. So I have 2!
Do you plan on dressing up for Halloween, if yes, what do you have in mind?
I have no idea if I'll be dressing up for Halloween or not. My kids are aging out of the Halloween thing save for my youngest. If I do dress up it may be with the Ren stuff I have.
Are you a reality show junkie? If so, what is your guilty pleasure?
I watch a lot of tv. Guess that is my guilty pleasure. I love watching Top Chef but Chasing Mummies is a close second. See that whole I watch a lot of tv. Can't make up my mind with just one!
What year did you graduate High School?
Hahahaha. I graduated in 1992.