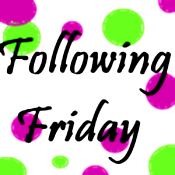 Hosted by Let's Just Give It Away, Made♥ By♥Jess,
And Then There Were 4, Buzzing The Day Away,
and Whirlwind of Surprises
Here is how you can join us.
1. Link up your blog URL on Mr Linky.
2. Follow the Hostesses ( and leave a comment so they can follow you back).
3. Grab The Following Friday button and paste it somewhere on your blog or in a post.
4. Follow as many blogs as you like and when they follow you, follow them back. (leave a comment on their blog so they can follow you back)