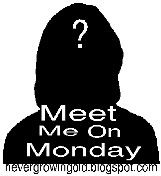 Questions:
1. What is your favorite kind of doughnut?
2. How often do you pray?
3. What is your favorite kind of music?
4. What do you order when you eat Chinese food?
5. Would you rather snowboard in the winter or swim in the summer?
My Answers:
1. My favorite kind of doughnut is the chocolate glazed doughnuts.
2. I don't pray as much as I should. I try to pray at minimum when we all come together for dinner. But I find I do my most praying when there's a crisis or when I am trying to go to sleep.
3. I like all sorts of music. I have a hard time listening to rap though. And of course that seems to be my daughter's favorite kind of music. Alot of times I have to tell her to turn it off.
4. Its been a long time since I have had chinese food. But my favorite dish is Mongolian beef. I like how it has a little kick to it.
5. I would rather swim in the summer than snowboard in the winter. I really don't like the cold.