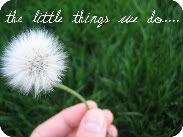 1. True happiness is love and being loved.
2. The most surreal moment of my life was when I found out I was pregnant with my first.
3. My favorite texture is smooth. I am a scrapbooker and out of all the textures I play with smooth seems to be my favorite. I know boring. Well I take that back I also like how sandpaper feels.
4. My signature color is purple. Its my favorite color. I find I have a lot of pink to. Yes I'm such a girl.
5. My signature style is comfort. I don't like wearing tight or to to s hort things and have an issue with some of the styles I see out there nowadays.
6. If I could choose one store to spend my life savings at, it would be Joanne's. Since I'm not that big on clothes or home furnishings. And since I love to scrapbook its a general enough store I can find other things in there to.
7. My best thing about autumn is this is one of my favorite seasons and I can just go on and on about it.