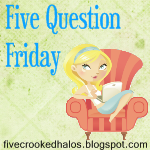 1. What is your favorite Halloween candy?
I love anything that has chocolate and carmel in it. I use to be a fan of Reeses Peanut Butter cups but leaning more towards Snickers/Mars. Needless to say I don't have a specific Halloween candy I like but all year round chocolate!
2. Do you fold your socks?
Nope. I hardly wear socks as it is and at times just wear mismatched socks if I need to.
3. What is something that you wish you had been warned about?
Hahahaha. Two things come to mind. Its HARD to be a step parent. And that your in laws will not love you just because your married to their son.
4. What is the most significant difference between you and your significant other?
He likes order. Household wise. I need to see things in front of me or I will forget about them so I am okay with clutter.
5. What are three words you would use to describe yourself?
Loyal
Passionate
Family Oriented