I am doing another new to me Friday Meme!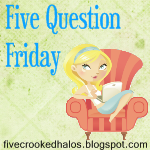 Rules for Five Question Friday: Copy and paste the following questions to your blog post, answer them, then watch for the linky post to appear on Friday morning, at which time you "linky up"! If you don't have a blog feel free to answer the questions in the comments!
1. What do you do when you have time to yourself?
I do a lot of things when I have time to myself. It seems the biggest thing I do is go on online and play with Facebook and catch up on my blog reading. But I also like to sleep, roleplay, read and scrapbook.
2. When you look out your kitchen window, what do you see?
Its kind of boring. I see my next door neighbor's house. Well more like the fence the husband built. See here's proof.
3. Who/What would you want to be reincarnated as?
I don't believe in reincarnation so I guess I would come back as nothing or just the shell of the body that holds my spirit.
4. What is your biggest pet peeve about other people's kids?
Well its not nessicarly the kids but the parents. I don't care for parents who are quick to let other people raise their kids instead of being responsible for what is going on with their kids or being in the know of what is going on.
5. Regular or Diet soda?
Diet for me!