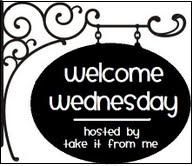 If you want to be a part of Welcome Wednesday, just follow these 5 simple steps:
1. Follow the Welcome Wednesday Host (Take It From Me) as well as the 2 Spotlighted Blogs of the Week. (These will make up the top three slots on the Linky)
2. Link up your blog name and URL with our Linky. (You only need to add your info once for it to be seen on all the blog hops)
3. Grab our Welcome Wednesday button and include it in a post about the event on your blog.
4. Go to as many blogs on the MckLinky as you want and Follow them. Be sure to tell them you are from Welcome Wednesday!
5. Be sure to Follow back any followers you have gained from our Welcome Wednesday event!
Blog Spotlights of the Week
1.) Erica from bassgiraffe's Thoughts writes:
"My name is Erica and I am a mommy of two beautiful girls ages 4 and 1. I grew up in a small town in Iowa then lived 7 years in Chicago where I met me husband. My husband is Canadian and so we moved to Ontario. In 2008 I became a Canadian myself. I love being a mommy, I call it the best full-time job ever. bassgiraffe's Thoughts came first as a way to keep my family and friends who live far away up-to-date on our lives in Dec 2009 and then in April it 2010 streamed into a review/giveaway site, where I LOVE working with companies and sharing my thoughts to my readers."
2.) Heather from Living on Love and Cents writes:
"Hello all! I am Heather from www.livingonloveandcents.blogspot.com. I am so excited to be a spotlight this week! I love to find the best deals and coupon match-ups and pass them along to my readers! I also love to do reviews and giveaways! I am a mom of two kids ages 4 and 11 months. I love being crazy busy! :) For September I am doing a "Happy Birthday Baby" event. There will great giveaways all month long including things for baby and mom. This starts tommorrow and I hope you will join me! Have a fabulous week!
What's neat about our Blog Hop:
-Put the same linky list code on your blog and you'll have the exact same list!
- Your blog visitors can add their blog to your list and it will show up on Everyones lists!
- By adding your blog YOU MAY BE RANDOMLY CHOSEN FOR OUR BLOG SPOTLIGHT OF THE WEEK!!!!
**Leave a comment with your blog address and we will follow you back**